About Us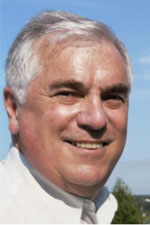 Canada Water Supply Ltd., founded in 1975 is a leader in the waterworks industry in Atlantic Canada. With treatment plants throughout Atlantic Canada from Clair in Northwestern New Brunswick to Musgrave Harbour and Clarenville 2000 miles away in Eastern Newfoundland, our proven results guarantee you that we will only provide you with safe reliable products that are easy to operate and maintain. Our aim is to save you money on the operation and maintenance of your treatment process, over and above saving you money on the initial Capital Outlay.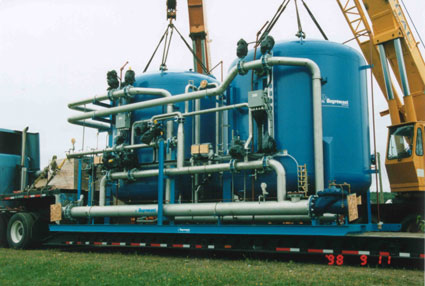 First Mangazur arriving on site in Woodstock, New Brunswick
We are always looking for innovative treatment methods that don't have high operating and maintenance. In 1998 we sold the first North American Degremont Mangazur biological process for removing Manganese in Woodstock, New Brunswick. This 275 m3/h (1200 usgpm) Manganese removal plant operates at a fraction of the cost of other technologies. With over a decade of successful operation there are now seven more Degremont Mangazur plants operating in Atlantic Canada.
The Mangazur does not use chemicals or costly replaceable membranes. It only requires backwashing after several weeks' operation (1/2 hour required). With electricity consumption just $3,000 per year the Woodstock Mangazur has paid for itself already when considering the operating and maintenance costs for the alternative technologies the Town looked at. The options all used more electricity, needed expensive chemicals and regularly needed either costly media or membrane replacement.
Mr. Sandy Robertson, our CEO, has been active in the industry for over 30 years and recently served as the AWWA Director for Atlantic Canada. Sandy is a Life Member of AWWA, a Past Chairman of the Atlantic Canada Section of AWWA, and a Past Chairman of the Manufacturers and Suppliers Section of the Canadian Construction Association.
Sandy is a proven problem solver in the water/wastewater industry. If you are in Atlantic Canada and have a water or wastewater treatment problem, please contact us.